We offer a wide range of pool services. Our goal is to keep your pool in pristine condition! We have the tools and experience to make sure your pool servicing convenient to you!
Monthly $175 Maintenance Package Includes:*
Free Filter Clean for New Customers**
Chemical Check and Balance
Equipment Check
Brushing Walls and Tiles
Skimming Pool Surface and Bottom
Vacuuming
Empty Skim and Pump Baskets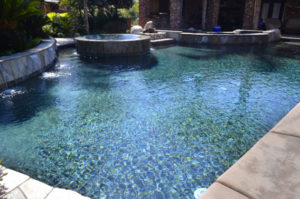 Extra Services
Inspect pool equipment for proper functionality
Muriatic Pool Acid, Liquid Chlorine and Chlorinating Tablets and Algaecides are included in the price for Full Service.
Salt systems: acid will be added as necessary for free. If salt is needed, it's an additional charge.
The salt generator will also be cleaned on a regular basis to insure proper functionality.
Water conditioner, shock and phosphate remover are extra if needed.
Filter cleanings and maintenance is extra.
Want the everything plan?
Ask about our Advanced Package
*Larger pools and yard with excessive foliage will have a slightly higher monthly fee. Repairs are not included in the service plan.
**Credited when second month is paid in full.
Pay For Your Pool Service
We now accept payment for pool services via Zelle or Venmo.
Call us at 951.255.1541 to setup your electronic payment options.